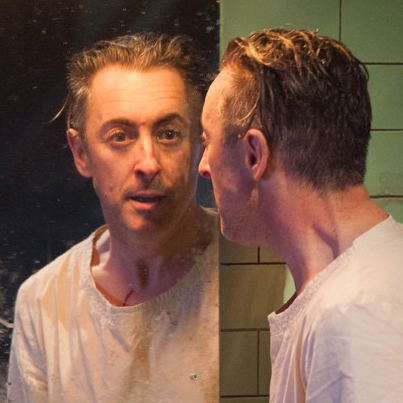 Tonight I had the privilege to see Alan Cumming in his one (well-almost one) man
Macbeth
at the National Theatre in Glasgow. The Tramway was packed tonight and full of the heat of excitement. So much so, that a woman fainting during the performance and had to be ushered out the the theatre.
Cummings harrowing interpretation of Macbeth stems from a madman mentality, as he negotiates the setting of a dilapidated mental asylum. Co-directed by John Tiffany and Andrew Goldberg, this is Macbeth done in solitary confinement. Two mostly silent actors (Ali Craig and Myra McFadyen) find thier way onto the stage as hospital orderlies, caring for their patient and leaving Cumming to play every major role in Shakespeare's tragedy. Cumming plays a character beyond the text, allowing Shakespeare's character to inhabit his mind and body. Devlivering striking vulnerability, Cumming plays each character distinctly in what must be an exhausting performance.

Cumming certainly gave an award winning performance. I wouldn't be surprised if he were nominated for multiple awards this season.