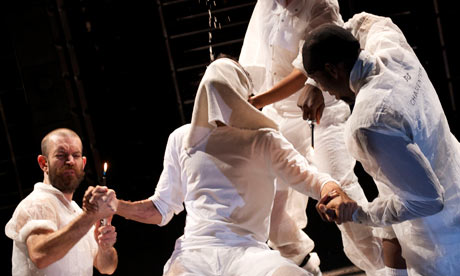 I have to say that I expected more from the RSC when I went to press night of
Mirat/Sade
. I expected to be shocked and horrified - or at least vaguely impressed. However, I felt none of this as I left the theatre. Perhaps I came to the theatre tonight with too many preconceived notions about what I was suppose to see.
Set in a mental asylum during the French revolution, Weiss's play shows inmates re-enacting the last days of political agitator Jean Paul Marat's life under the direction of the Marquis de Sade. The only thing I really took away from this production is its inherant questioning of societal behavior and griping music.
It was clear that some of the audience was a bit disturbed by the subject matter - reportedly an average of 30 audience members leave the show at intermission every night - yet this was not a production that inspired any feeling in me whatsoever.
This revival of a landmark production at the RSC, featuring many shocking theatrical devices and subject matters including torture, rape, insanity and other filthy behavior. Yet this inauthentic version is not impressing the critics. The Daily Mail calls it a "shocking waste of your money".
I suppose this is one of the LOVE / HATE shows. You either LOVE it, or you HATE it.